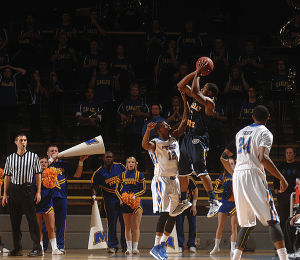 Murray Ledger and Times
The Racers were playing with the kind of toughness and intensity that would have had them atop the OVC had they done it all of last week. A Morehead State team that is coached by a guy who demands toughness out of his players, was being out hustled by a hungry group of Racers. With that, Murray State grabbed their first 20 point lead since playing EIU at home back in January.
But with the Racers set on cruise control in the final 8 minutes or so, Morehead began to battle back.
With just over 4 minutes to play and Murray State leading 70-63 Angelo Warner buried a deep three to cut the lead to 4.
Murray State then appeared to have put the game away twice. First with 2 free throws from Ed Daniel which pushed the lead back up to 6 with only 90 seconds left. Devon Atkinson then pulled up from straight away and knocked down a triple to cut the lead in half. On the ensuing Murray State possession, Stacy Wilson went against all basketball logic, in my opinion and pulled the trigger from three early in the shot clock and it paid off.
With the lead 79-73 and just over one minute left, one would think that if Murray State could just take care of the basketball this one would be over.
I thought for sure Morehead would immediately try another three in hopes to get this game back to one possession but because of one of the worst phantom calls you may ever see, they didn't have to. Jeffery Moss, whistled for literally nothing, allowed Morehead to cut the lead to 3.
The good news was that Murray State could run the clock down to about 15 before taking a shot. But Stacy Wilson turned it over which led to a run out on the other end for Morehead State. The Eagles' center Drew Kelly pulled from straight away three point land but hit the front of the rim. Something the Racers really struggled with last night was allowing Morehead to have multiple shot attempts per possession. It was no different here as the Eagles got the rebound and Turner connected on the game tying three.
Just like that the 20 point lead was completely gone.
Morehead State would have the momentum going into overtime. When the Eagles got up by 7 I was no longer nervous just really upset as to how this team is incapable of putting teams away. I am very thankful this was the last away game.
With Murray State down 2 and just seconds remaining everyone in the gym knew Canaan was taking the shot. Isaiah drove in, threw up a wild shot that went off the mark, my heart sank but was immediately rejuvenated when Ed Daniel grabbed the rebound and with a little kiss of the glass evened the score at 87 with only 3 ticks left.
It was the Isaiah Canaan show in the 2 overtime as Sip hit a three from the corner to extend the lead to 8 and then in vintage Isaiah Canaan style came off of a curl screen to connect on his 5th three of the night this one to all but seal the victory as it put Murray State up nine with only a couple minutes left.
QUICK OBSERVATIONS:
Isaiah Canaan finished with 35 points and played 49 of the 50 minutes. Although we have seen significant improvement out of CJ Forde it isn't enough warrant sitting Canaan for an extended period of time. The last time Sip hit 5 three's in a game was that EIU game back on January 17th.
Brandon Garrett has really been a go-to guy in OVC play. I love the inbounds play they run for BG that seems to be executed on the most crucial of plays. Brandon finished with 16 points.
Dexter Fields only shot 5 times, all of them three-balls, but connected on 60 percent of them.
Zay Henderson is a guy we haven't seen play too much but last night the big fella contributed big time in only nine minutes of play. Zabius had 6 points and 3 rebounds, 2 of them offensive.
With the win Murray State clinches the West Division of the OVC giving them the double bye in the tournament.
Now let's pack the Bank for SDSU on Saturday. ESPN2 will be covering and I am so ready for it to get here.