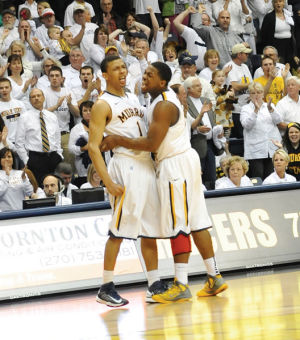 Last night I sat mid court all the way at the top row of the bleachers. This seat isn't my favorite because the fans don't get as loud as the student section.
Also, I was on the opponent side with the Belmont fans.... Let's just say even though they were way up there they got LOUD! For this game I give the Murray State fans a B+. There were over 7,000 in attendance but I was kind of disappointed that it wasn't a sell out. The ones who were there though did great and the entire student section stood for the whole game.
I give the Belmont fans a B. They chanted, cheered and made noise for most of the contest. It took a lot out of Murray's fan base to drown them out at times.
I will be honest, the officiating last night was terrible (going both ways). I really wish the OVC would invest in some better trained refs.
Overall, the crowd was good, but sadly not as good as last years.