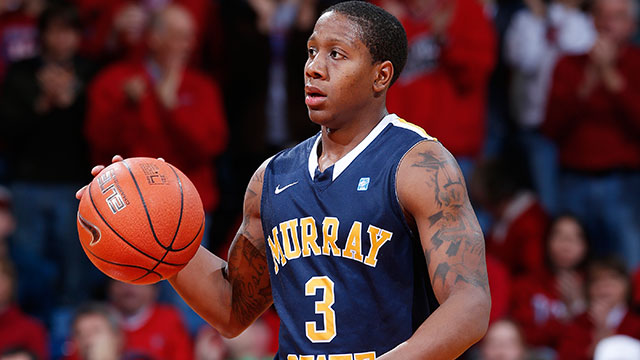 M
urray State trails at halftime and comes back to win by 8 to 10 points. That has been the routine for the last few games but tonight was the exception. Jacksonville State gave up all of their 10 point cushion as Murray State came all the way back to take the lead on a Brandon Garrett hook shot with 8.1 seconds left. But JSU benefited from a foul call on Jeffery Moss and collected their first win ever over Murray State sending all 52 JSU fans home happy.
I don't like doing it, as a matter of fact I despise the one's who do. But I am going to complain about the officiating. Of the four technical fouls handed out only one was really deserving. The technicals effected the outcome and were not really warranted. The game was physical but the amount of fouls called are more of a reflection of a loose whistle. The officials were desperately trying to get control of the game but they went about the wrong way, IMO. Just handing out T's left and right, to me, is a sign of an inexperienced official. The last defensive play for Murray State was questionable, it could have gone either way, unfortunately it went the way of the Gamecocks and leaves us with a bitter pill to swallow.
Lets further examine this one:
OBSERVATIONS
This may come off as sour grapes but my goodness, how can a D1 team play in that barn they call an arena? I am tired of watching Murray State play in front of a crowd that is comparable to that of a high school game and a facility with no TV lights, wooden benches and no digital accompaniment. Seeing facilities like the one's at JSU make me ever so thankful I am a Murray State fan.
Let me say one more thing about the officiating and I swear I am done. With just under 8 minutes to play Ed Daniel was called for interferring with the ball in the cylinder. It looked like a bad call and Ed reacted by tossing the ball towards the student section. Both benches had to be calmed down by coaches and even the officials began to get testy. There are very many D1 basketball games going on at once and out of all the officials in the NCAA not all of them are good. So what do they do with their bad ones? They stick them in the Ohio Valley Conference.
Brandon Garrett picked up his 4th foul early in the second but played a really good game his put back off a Canaan miss cut the lead to two with under 4 to play. He would have had the game winner had Moss not fouled. He finished with 6 big points.
Isaiah Canaan at the 11:30 mark had only 5 points. Hit his first three at the under 10 mark to cut the lead to 45-43. What is puzzling is his struggles as the free throw line as of late. Tonight Canaaan missed three and they were big. He had a huge jumper and foul to cut lead to 4 and tied it up with a put back with 2:25 left. He finished with a cool 20 points and 4 assists.
Stacy Wilson was leading the team and keeping Murray State in the game early in the second half by hitting a three and getting a backwards three point play. What could have been One of the most costly plays of the game was his foul with 2 seconds on the shot clock. At that point you just let the ball go back and take your chances on them lucking in a shot. Luckily they missed both free throws. He was not as lucky when allowed separation and gave up the go ahead three with over a minute to go. Wilson brought us back in it with a three pointer to cut the lead to 2 but then fouled out on the next play. Wilson had 16 points on 6-11 shooting. Other than a few defensive mistakes it was a pretty good game for Stacey.
Ed Daniel got pushed in the back almost the whole game and still finished with 17 rebounds. Sure we look back and wished he would have hit just one more free throw but the guy played his heart out and gave a chance to the win the game by getting yet another double-double.
Dexter Fields had a WIDE OPEN three that would have given the Racers a three point lead and missed it. If anyone can find his shot and return it to him it would be much appreciated. When Dexter hits Murray State can become dangerous with so many people to guard along the perimeter. I am telling you guys he is the key.
Jefferey Moss Hit a three in the first half and had a chance to a big three that would have given the Racers the lead with over 8 minutes to play. That was after he had a great defensive play to force JSU into an air ball.
Latreze Mushatt Had 6 points and got some huge offensive boards and a huge put back with over 6 to play. I wish he could have finished more of those offensive put backs but it does appear that he is starting to get back into the swing of things which will be huge for Murray State.
The good news is, is that something crazy will have to happen for Murray State to not win the OVC West Division meaning that they will most likely still get a double bye. Meaning that it will still only take 2 wins in Nashville to go to the Big Dance. Meaning that, by and large, this game doesn't really matter as long as Murray wins the West. Yet, for someone who hates losing as much as I do this will be a tough one to live with for the next week as we will not get to see our Racers play until next Saturday when they host Austin Peay. Hope to see you guys there.
Go Racers!