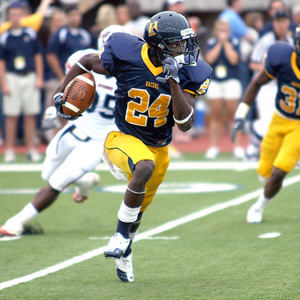 Leading off this weeks Twitter
updates is the story out of Motown. The Detroit Lions have picked up Dontrell Johnson off of waivers. The former Murray State CB and punt returner, played two years for the Racers before moving on to the National Football League. We of course wish Dontrell the best and will be following his career, here at MKYSports.
Neal Bradley isn't happy abou
t what was said in a Florida State-Murray State preview written for ESPN.com and either am I. I understand that the Seminoles have a strong team this year with bringing in a top recruiting class but the Racers are not going to be the pushover everyone thinks. Now, of course, there is a chance they will be blown out in Tallahassee but that will not come easy to Florida State. Murray State has the ability to keep the game respectable.
Huge recruiting news
today as RJ Currington is taking a unofficial visit to the campus this afternoon. Getting this kid in a Racer uniform seemed like a long-shot a month ago. It now seems like a real possibility. You want to get your hopes up even more? Read what his father tweeted:
Welcome to Murray State where whe
n a certain basketball player changes his hair style it's big news. Ed Daniel is considering putting his hair back into braids for this season. I don't know how I am going to cope with this. This could have been the season to market "Ed Hair." You know where everyone in the stands is wearing fake fro's. It will be a lot harder to get 8,000 people to wear dreads.